Satin and Lace Christening Gown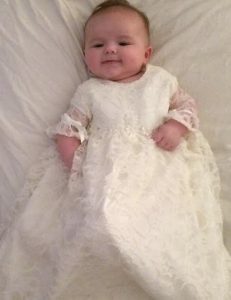 I was so excited to make this Irish handmade satin and lace christening gown for Kya.  I really love the lace gown and the sleeve with the ribbon really set it off.  The satin dress underneath the lace is also a high-quality duchess satin.  This is in ivory, but you can also get it in white. Some families have to have a white gown and others just love the richness of the ivory.  Both colors are beautiful, and really show the beauty of the gowns off.
Christening Gowns with an Irish Heritage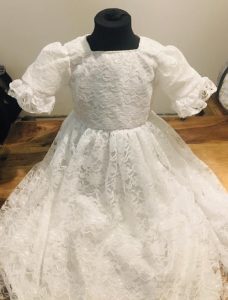 It is a very special duty indeed to keep the Irish heritage alive. I know how important that is to all the Irish families around the world.  I only use high-quality materials in all my gowns as these gowns are passed down through many generations. Before I even start making the gowns I make sure the materials will stand the test of time.  All my high-quality materials are sourced here in Ireland as I believe strongly in supporting Irish businesses.
Massachusetts Christening Occasion
Below is a photo of Sophia getting christened in Massachusetts.  Her grandmother contacted me and expressed that the most important aspect of the gown is that it is handmade in Ireland. I was delighted to make this satin and lace christening gown for Sophia and present it in a beautiful presentation box.
I love getting really good feedback and here is an example below.  Sophia looks beautiful and the fact that the gown was handmade here in Galway, Ireland made it all that more special.
Need I say more??? I am so happy and proud! An Angel in disguise in an Irish Lace Christening gown straight from Ireland! Thank you, Helen!
Interested in one of our Christening Gowns?
If you are looking for a certain county design you need to check out our Celtic Christening Gowns selection. 
For a more traditional gown check out our Classic Christening gown selection.
Helen Marie supply beautiful handmade gowns of the highest quality. If you are in any doubt about which gown is most suitable call us at +353 (087) 629 8754 or use our contact form.