Irish designs and christening gowns
Here are some of the Irish designs and Christening gowns from  County  Roscommon, Wicklow, Clare, Down, Sligo, and Kerry.  The Shamrock, the national emblem of Ireland is also displayed here.  Irish families around the world have a huge connection to their Irish roots and heritage.
Where are your Irish roots from?
At Helen Marie designs you can choose an Irish Christening gown for your baby with your Irish county design embroidered in a metallic thread.  I was very excited to make the county gowns. This was because I knew they would be treasured by Irish around the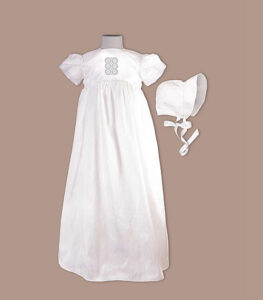 world. It was then that I decided that I would include the origin and history of the design as a scroll.  I thought it would be a lovely idea so you can frame it as a feature of your home.  I researched each Irish county design and was fascinated by the history of each design.  The Irish designs were founded by saints in monasteries or historical buildings throughout Ireland. They are dated back as far as the 6th century. I have also included beautiful details of the surrounding area of your precious county.
Here is the county crest from Roscommon,  at Kilronan castle.  The story or the design is very interesting and also included as a scroll. This is to make it easy to frame so anyone that admires your design can also read the history behind it.  You can add this to your commemorative Irish wall. If you haven't started, begin your own Irish wall by choosing your County design.  Connect your family to your Irish heritage by displaying a piece of Irish History in your own home.
County Roscommon Irish Christening Gown
Connect your baby not only to your Irish heritage but more importantly your Irish county. You can do this by choosing the Roscommon gown and bonnet.  The fabric I have used in the gowns are made from the highest quality. This ensures long-lasting looks. This is very important as these gowns will be passed down through many generations. The gown comes in a beautiful presentation box.
Interested in one of our Irish County designed Gowns?
If you are looking for a certain county design you need to check out our Celtic Christening Gowns selection
. 
For a more traditional gown check out our Classic Christening gown selection.
Helen Marie supply beautiful handmade gowns of the highest quality. If you are in any doubt about which gown is most suitable call us at +353 (087) 629 8754 or use our contact form.