Satin and Lace Christening Gown with Shamrock Design.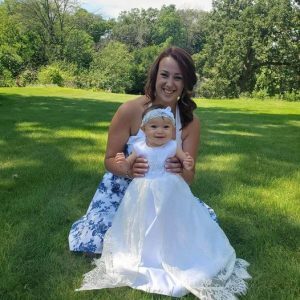 The Irish satin and lace christening gown looks beautiful on Raven from Wisconsin, USA. She looks like a little princess on such a special day. The shamrock design is embroidered in a metallic silver thread. Also, the satin is high-quality duchess satin and beautiful lace.  Her mom Katlyn looks beautiful also and was so excited to get an Irish gown. I was delighted when Raven's grandmother contacted me here in Galway to get an Irish Christening gown and I couldn't wait to start making it.   The christening dress is made from high-quality white duchess satin and lace.  Getting an Irish handmade gown was very important to the family but what made it all that more special as it was handmade here in Ireland.
The Irish Shamrock Design on the Christening Gown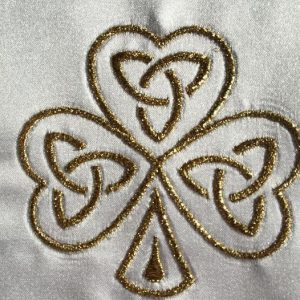 The Shamrock is the national emblem of Ireland and is said to have been used by Saint Patrick to illustrate the Christian concept when Christianising Ireland in the 5th century.  The Holy Trinity, the father, the Son, and the Holy Spirit are represented by the three leaves on the Shamrock.  The trinity I used in the Shamrock design brings two Irish symbols into one design.  The metallic thread embroidered on the christening gown gives a beautiful shimmering effect.   At Helen Marie, our unique Irish gowns connect families all around the world to their Irish roots and heritage.
Raven's Christening day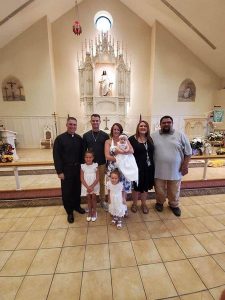 A family united in a beautiful church in Wisconsin to celebrate a truly memorable occasion, Raven's christening day.   I think it's so important to celebrate these occasions and it is evident here how important it is to this family.  Raven is the first to wear my Irish Christening gown and it will be treasured for generations to come.  Irish heritage is so important to many families around the world.